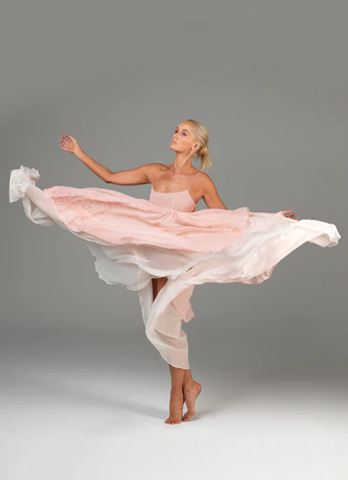 Sakura Kiss Nightgown
"Sakura Kiss" nightgown features diaphanous layers of chiffon of varying hues of delicious pink. Reflecting the many rosy shades that cherry blossoms display in nature, the top layer of this nightgown is heavily embroidered with blossoms that look tossed there by the wind.   Narrow spaghetti straps and an Empire bustline over the swirling layers of sheer chiffon complete this playful and extravagant nightgown. Wear it while twirling to a Strauss waltz or sit demurely sipping vintage champagne as the layers of gorgeous pink settle over your recumbent body.
Composition: Pure silk chiffon in multiple colours of pink.
Care: Professional dry-clean only.
Made to order. Please allow 14-24 days for delivery.
Designed and made in our studio in Melbourne, Australia.