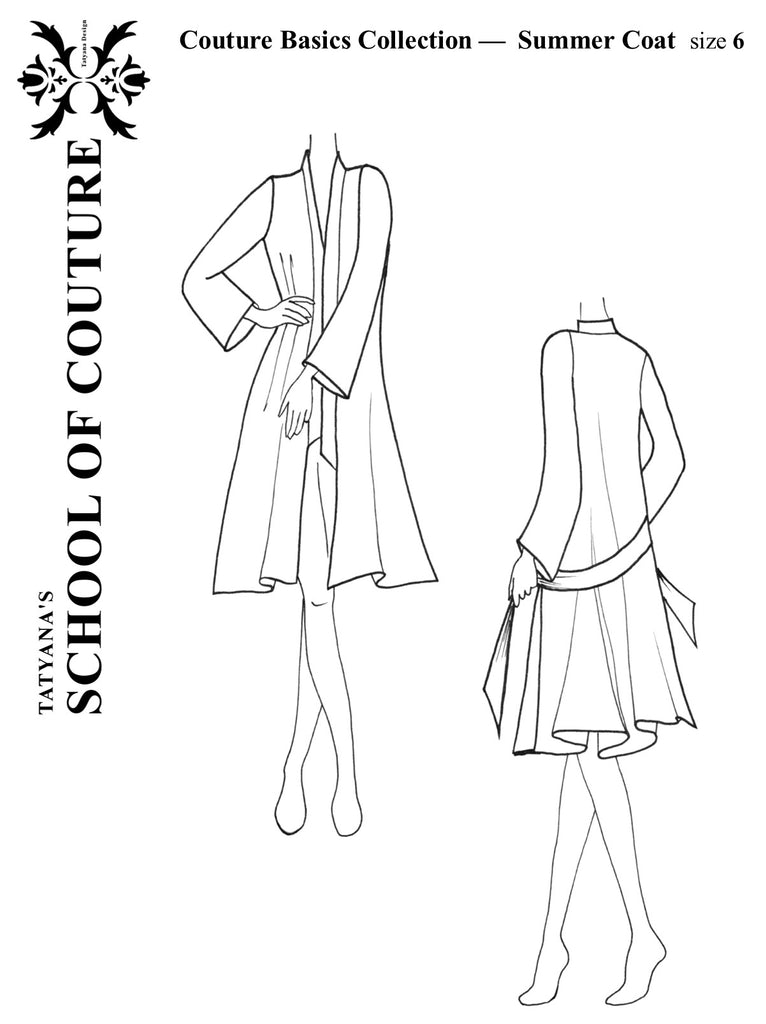 Couture Basics - Summer Coat pattern
I have designed this coat for myself, after wearing it for a season and receiving lots of complements now happy to share the pattern with you.
This free-flowing, fully lined coat features pockets, kimono collar, couture style facings and optional belt.

Recommended fabric: jacquard, velvet, light wool, tweed, mid-weight cotton, silk tweel, cloque. It is important that chosen fabric has a good drape. 

Notions: organza for interlining and interfacing
Please make sure to pick correct pattern size:
| | | | | | | | |
| --- | --- | --- | --- | --- | --- | --- | --- |
|   | 6 | 8 | 10 | 12 | 14 | 16 | 18 |
| Bust | 85cm | 95cm | 100cm | 105cm | 110cm |  115cm | 120cm |
| Waist | 60cm | 64cm | 70cm | 77cm | 82cm |  87cm | 94cm |
| Hips | 95cm | 100cm | 115cm | 120cm | 125cm |  130cm | 135cm |

Finished coat measurements:
| | | | | | | | |
| --- | --- | --- | --- | --- | --- | --- | --- |
|   | 6 | 8 | 10 | 12 | 14 | 16 | 18 |
| Bust | 113cm | 118cm | 123cm | 128cm | 133cm | 138cm  | 143cm |
| Waist | 109cm | 114cm | 119cm | 124cm | 129cm | 134cm | 139cm |
| Hips | 125cm | 130cm | 135cm | 140cm | 145cm |  150cm | 155cm  |
| Bicep |  39cm |  41cm |  42cm | 44cm  |  41cm | 42.5cm | 44cm  |