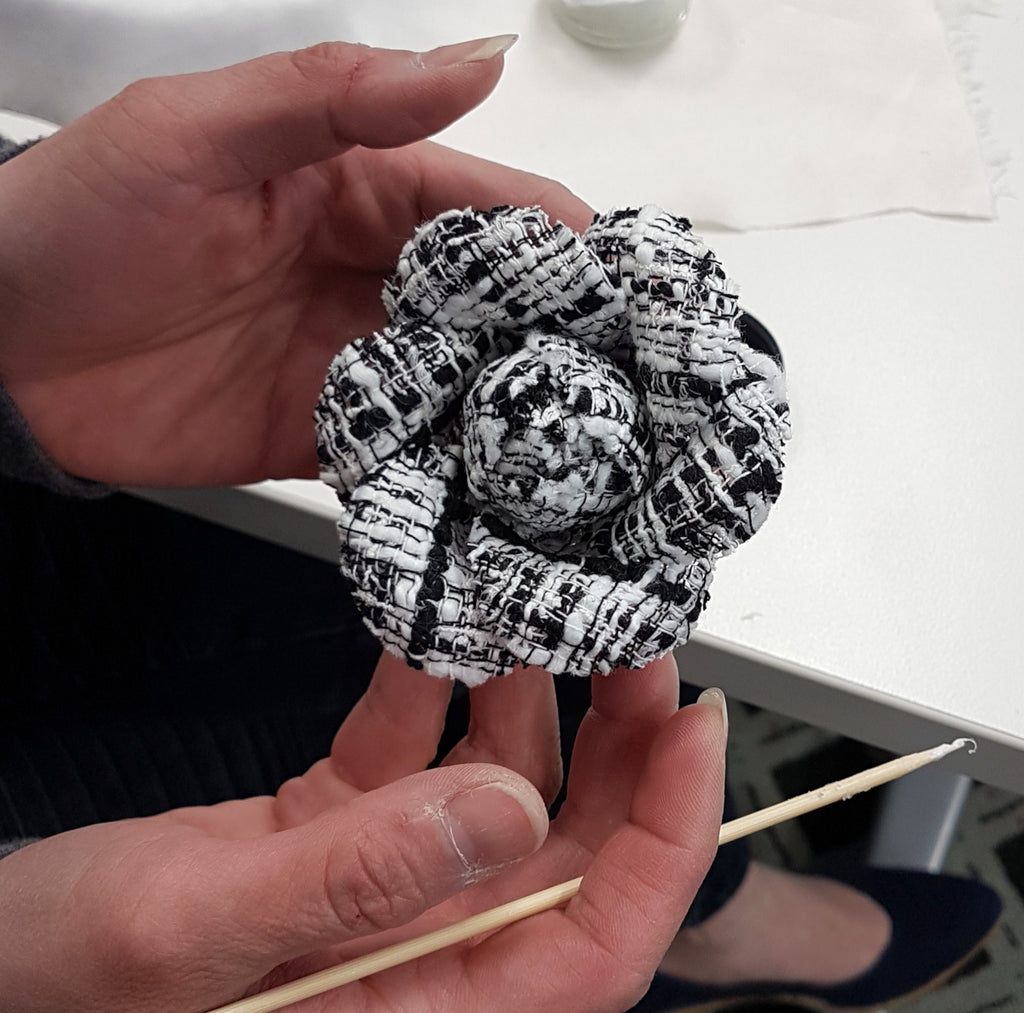 Silk Flora - Three Days Workshop - Adelaide
This three full days intensive workshop designed to introduce beginners to magic
of making silk flowers.
(Limited to a maximum of eight participants.  No experience needed. )
The Silk Flora Workshop offering the opportunity to make silk flowers using mix of traditional French, Russian, Mami-bana and Nuno-bana methods.  To learn how to make and to style your creations to make beautiful wearable art such as a corsage of silk flowers!
Learn the secrets of making these beautiful blooms:
Day 1
- Hydrangea or Violet brooches
- Miniature Roses posy 
Day 2
- Large, hand painted Rose
Day 3
- Chanel-style boucle Camellia
- Chanel-style silk Camellia
- Wool and lace Camellia


Everything you will need to create your own exquisite silk flowers is included:

- pre-treated and pre-cut small and large silk petals for each flower
- pre-cut silk foliage for each flower
- Japanese or vintage stamens
- pre-cut silk sepals
- specialised Japanese flower making glue
- various gauge wire
- florist tape
- brooch magnet or pin
- ribbons
- flower patterns
- flower storage box

Also included to use in class:
- brushes 
- silk paint
- eclectic iron 
- 18 piece flower making tools 
- hot box
- heat pad
 You will learn:
- safety and handling of the high heat tools
- purpose of each tool and how to use it
- fabric treatment options
- pattern placement, marking and cutting
- different fabric usage and suitability
- flower's usage
- flower attachments  
- where to get suppliers
- where to get patterns and books

Location:
Tatiana Light Fabrics
37-39 Unley Rd
Parkside SA
It is possible to take one (25th of March), two  (25 & 26th of March) or all three days.

After completion three day workshop, you will be able to join any of the Silk Flora workshops.
Electric iron and professional tools also can be purchased here or you can bring your own.